" An odd name, but an ordinary person. That's Ryuugamine Mikado, a 'country' boy who has moved to Ikebukuro to study in Raira Academy. With an innocent face, Mikado is wrongly underestimated by most people. The creator of the Dollars, this youngster is able to plot magnificently against the ones who wants to harm his friends. As time passes by, the leader of the colorless gang becomes more and more obsessive and manipulative, finally showing his true colors."
Been pretty sick this past week but at least I found time to clean up some sketches.
デュラララ!!を描いて見た

Well that was unexpectedly good

oMFG
Durarara Attack!
They look normal as they seem. But they have secrets of their own. Secrets they can't tell anyone.
it's like Pixar… for adults

This is great I swear!

THIS GOT SO GREAT AT THE END LIKE IT WAS GOOD AND THEN THE END
Advertising done right. For sure.

This is brilliant.

For the curious: in German, it says, "Life is too short for the wrong job."

ITS BACK ON MY DASH

I like how the guy in the gas ad is smoking a cigarette :P
Durarara!! gets new comedy spin-off

Full article here

Daisuke Ono & Hiroshi Kamiya as the voice actor on the same series

[*]
Colorless Ikebukuro
Tumblr created for Durarara RP Forum: Colorless Ikebukuro
---
http://colorless-ikebukuro.proboards.com/
---
Greetings I am Mikado Ryuugamine and here I will just be ReBlogging of both adorable and cracky Durarara pictures.
---
Also feel free to ask me anything you want, I will try my best to respond back quickly.
---
Hopefully as the Forum progresses I can posts some thread post/summaries. Plus the many adventures I have with my friends
---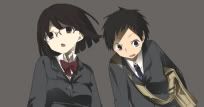 ---
Anri ^///^
---
---
Kida (my best friend)
---
---
...and Aoba (still unsure what our relation is...but I'm going to assume his boss?)
---
---
Please come feed Blue Squares fishes. As their leader I would very much appreciate it. -smiles warmly- ...If you don't they just might eat
you
Fly by Dream Themes